**WIN A COPY FREE!!! See Comments Section**

Written By: Daniel Scott
Independent Developer spielwerk delivers three dimensional puzzle goods.
With 3D logic you get one of the most addictive games that has ever been created straight to your iPhone/iPod. Admire the fresh and stylish look while your brain explodes in the mental challenge of fifty tricky levels.
Connect all end-squares of the same color on three sides of a cube by a continuous path of that color.
My Take
Games that are done well by studios other than the big guns usually end up being played and kept in my library.  This one floored me. As I know very little about the developing side, it is noted this was made with Unity.  I've heard good things about that program, and it makes me want to jump in and try my luck (not really, but it would be cool to make my own someday).  As a puzzle fan, this one looks as good as it plays.  It's tough logic. What I am impressed with the most is the control mechanisms.  It just plays consistently well.
Presentation
The artwork is great, it changes per tenth level.  I've gotten up to the 13 or 14th last night and I wasn't expecting the cube to turn black and adding a 4th row and column.  Hey the longer you play it seems to get better! The music is good, perfect for the game, it sounds like Planet Puzzle (the Tetris Attack retread in the DS).  What I like about this game is the animation is isolated on the cube only, meaning I'm not as distracted by the background or interface.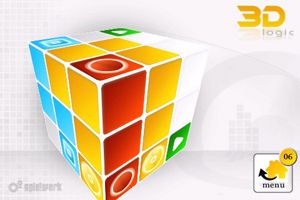 Game Play
Game play is easy, You have 3 or more colors on the cube, you must connect point A to point B, on the 3 sided play field.   There are a few unusable squares, and they cannot overlap.  This type of game play forces you to think outside the lines so to speak.  The movement for the cube is controlled by dragging your finger around to the side you need to work on.  You can work or change the square colors on all sides at any given time, but sometimes the square you need to get to might be tucked in the very back row.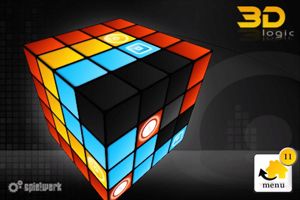 One side note, remember to activate the color you want to use at any given time.  You might (or I did) find yourself changing the wrong color, and a second touch will change it back to the original color.  It might affect your strategy some.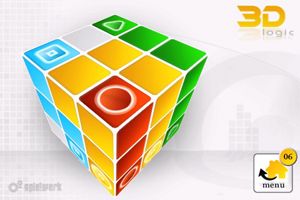 There are 50 levels to go through. My guess is I'll be trying to beat it during this weekend just to see what's in store for the next levels.
The Cons
There's no cons in this game. It is perfect as it is now.  I do have some suggestions. There are only 3 sides, it would be cool to see the other 3 sides being used for levels 51-100 if the devs update the app.  There's no time limit implied, no scoring method, or even a step count.  With saying that, there's no online features to interact with others or for competition purposes. I just think this one needs some exposure to help increase the sales and popularity.  It's just 50 levels and that's all the dev wrote.  I may not be building a strong enough case because I'm sure keeping in mind the structure of the game isn't based around anything versus or head to head competition.
Conclusion
Beautiful game and a privilege to review.  It is short, but in this case quality does trump quantity.  My hope is more will be added to the app to lengthen the lifespan possibly with online features somehow.  This one is a puzzle fan's delight and worth paying 3 bucks for. If you are unsure, there is a lite version released.  Don't wait for this one to go on sale.  It's a must buy and should be on your list.
Contest
Comment. Simple and fast. Ends Mother's Day this Sunday, 12NN.