Gamers rejoice, Myst mystifies iPhone users and a big thank you to Cyan Worlds for taking their time on this classic.
Myst ($5.99)
The original Myst sights and sounds have been meticulously re-assembled for a remarkable experience on the iPhone and iPod touch. Everything that you remember from the original Myst in a format where a simple touch or swipe moves you through the world. Welcome back to Myst… wherever you are.
My Take
Years ago in college, my roommate had a Power Machintosh and had a handful of cool games.  One of those was Spectre, in which we played and battled for the high score.   Then as I came back from spring break, thinking I get to play Spectre again, and he's on the computer playing something entirely different… and he would not get up and allow anyone to play anything else.  The game was Myst. He was hooked on Myst.   He bought this by word of mouth from another friend who was also smitten by this game. This is  in the spring of 1994, and the internet wasn't as mainstream as it is now.  He finally completed the game without any FAQ guides or spoilers (actually with some help from a few in the dorm as well, at 4 in the morning sometimes). But he wasn't going to let it go until he finished…
Now on my take, I had become somewhat jaded over Myst back then.  No true or normal manual, no dialog other than what you find and bookmark. You have to figure it out as you go. I have been "banned" from the computer that wasn't mine in the first place since he was progressing in the game which I felt like it was 24/7. Can it be that good?? I fought the temptation all these years until two days ago when I was asked to review it. OMG. I'm an idiot.
Presentation
I was expecting some heavy polygon rendering, thinking it was rushed out. Not here, no crappy Playstation 1 shallowness.  The graphics are outstanding. As Cyan Studios states, the images have been "re-assembled" or optimized for the iPhone's screen size.  I would imagine the game would have been a disaster if it wasn't and shoved into the pixels from the PSP build.  I wouldn't take anything less than perfection for our beloved platform.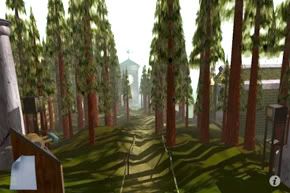 Gaming Cross-Reference
Myst is in a class of its own and one of the first sandbox type games, outselling everything and was the top selling PC game of all time until the Sims came around.  Lucky for us we get the Sims soon as well.   There are plenty of clones out there, but nothing compares to this original.
Game Play
Since the original started on a computer, the controls and game play would have to be revamped.  From what I have played through (and still playing), tap, swipe and flick your way through the image labyrinth, solving the enigmatic puzzles as you remember, reading all those books on the shelve to get some kind of hints to make some progress.  I have to say it is easy to control but a difficult game to figure out.  That's the beauty of Myst, you must think through logically the puzzles with the few clues given.
On the bottom right of the screen, tap the "i" icon, the screen flips over and the options are available plus the ability to save a few points of interest, possible short cuts to certain areas.  I was apprehensive to exit out via home button, thinking I would lose my place where I was snooping around for clues.   Sure enough, the game auto saves right where you left off upon launching.
Lastly, in the options their is a "hint" link to tap in case you get stuck.   One word about that, there are several walkthroughs already floating around the Internet, including for this platform.  I always thought FAQs and walkthroughs are another form of cheating.  So do yourself a favor and push yourself to rely on your own intellect to figure it out.  That's what I'll be doing.
The Cons
The game has been ported flawlessly. Unless I am missing something a little deeper, on the surface it's perfection and a labor of love. The only issue I see was the 700MB and some change download.   I am hoping the new OS due soon will address some form of compression to kill that peeve.   After all it's not just the large app download that's a problem, it's the 1.5 GB you have to have free to get it on your device!   That's steep, and yes I own an 8GB model, so I had to purge my apps, movies and music before I could sync it.
Conclusion:
I admit I am not a RPG or sandbox kind of gamer, but Myst is gorgeous and I'm opening myself to another angle of gaming.  At 5.99, it's worth the time versus the dollars spent.  And as we know, Riven should be around the corner due to the success of this port.   Go get it!