Glu Games Inc and Fox team up to bring you some good not-so-clean stupid Family Guy humor in various mini games.
Family Guy: Uncensored ($2.99; Free)
Freakin' sweet! Come spend some time with the Griffins in this outrageously funny game where you play as the eccentric Peter Griffin, the brilliantly sadistic baby Stewie, and other favorite characters from the Family Guy TV show. It's funny, it's uncensored, it's just plain wrong!
My Take
I'm approaching middle age and I admit you gotta laugh at the stupid humor when it's done properly.  My only issue with Family Guy is my kids see a cartoon and think it's going to be something they can watch.  Um, no.  Especially if Quagmire is wearing a thong.  Gross. This game however is an attempt to relay those crude jokes into mini games.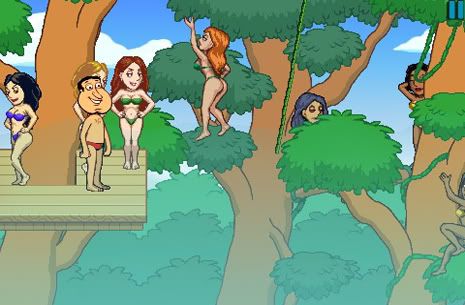 I'm telling you,  the games to me seem pre-built with the theme added after the fact.  I'm starting to hate mini games, and this rendering doesn't help the cause.  I've played better 99 cent games with better sarcasm gameplay.  Parachute Panic anyone?  There's a few others that make laugh a lot more than this one.
Presentation
Set aside the load times, this one is good, not the best, but it's good to navigate through.  The user interface is simple, with a good amount of options. I will say the graphics are substandard, but in all fairness, Family Guy itself isn't all glamorous right?  But Peter does not look like him from the cartoon, at all.
Game Play
Beat each mini game, one at a time to unlock another mini game and a cut scene.  I've unlocked only one, and was completely frustrated in trying to beat the second one.  The 2nd mini game is Quagmire swinging on vines to get to Lois to do some suggestively you-know-what with her.
What's so bad about it is he's swinging on vines wearing nothing but a thong, and there's a bunch of ladies in the background, some sorta grinding on the trees, suggesting something.  I'm saying this because the game should be played with the sarcasm Family Guys tends to draw us in with.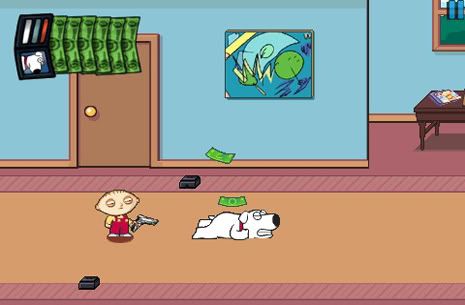 The controls are basic but somewhat touchy. They tell you how to play the game in the beginning, with easy controls, but they are really sensitive in one game, and the in the first one, I have to hit it just right to get Brian to jump.  So it's a bit frustrating.  I didn't get a change to unlock the Peter vs. Chicken game, but it looks like a rock em sock em clone.  Although it would be cool if they keep beating the crap out of each other throughout a street scene. Robo Stewie is a straight-up clone of Mega Man.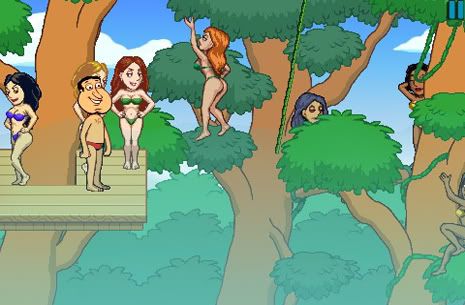 Suggestions
Please have the writers who actually write for Family Guy get involved.  The dry humor sarcasm is so needed.  It just seems like I'm playing the same games, except it's Chris afraid of a giant monkey or Peter fighting the Chicken. It's all the same.  Secondly, is there an option to turn off the control directions?  Man, I love to be able to turn that off once I understand the game.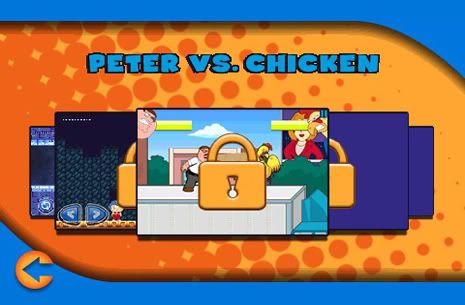 Conclusion
Solid meh.  True fans will agree, this is a bust in my opinion.  The uncensored part is just not really uncensored, it's more suggestive.  But as a marketing ploy, Family Guy: Suggestive just doesn't ring a bell. But this game needs a serious makeover or at least a drop in the price tag.